The 13th "Aso Mizukake no Tanada" Rice Planting was held!
On Saturday, May 13, 2023, rice planting volunteers from the Higo Bank, Ltd., Kumamoto Nichinichi Shimbun, Nippon Telegraph and Telephone West Corporation, KIS Corporation, and Meiji Yasuda Life Insurance Company participated to plant rice, despite the rain, for the 13th "Aso Mizukake no Tanada" rice planting activity for groundwater recharge as part of SDGs initiative.  Photographed are Chief Director Kai and guests of honor.  Chief Director Kai addressed the participants: "The legal status of the novel coronavirus infection, which had been in place for more than three years, was downgraded to "Class 5," and a new routine began on May 8, shifting from 'emergency' to 'normal' condition.   During this period, gatherings of large number of people and traveling were restricted, and it was quite difficult to carry on with the normal volunteer activities.  For this reason, we have continued the "groundwater flooding project" by a small group of people from several companies who have agreed to participate in groundwater conservation efforts.  This year, I am pleased to announce that 13 companies, including Higo Bank, have agreed to participate in the project. The rice plants are happy with today's rain!"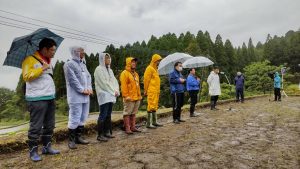 The participants offered a prayer for the safety of the work and the abundant harvest by following the manners of Shinto; bow twice, clap one's hands twice, then bow once more in unison with Chief Director Kai.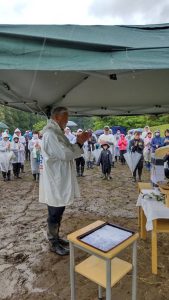 The "Rice planting ceremony" was performed by Chief Director Kai, Vice Chairman Kasahara, and Yamada Ward Representative Manager Hashimoto.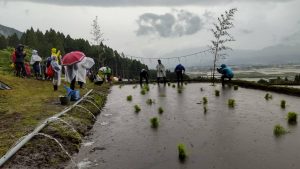 We carried out rice planting activities for groundwater recharge with the volunteers from the following companies for the additional dates:  AIM TEC Co., Ltd. on Friday, May 12; Nishimatsu Construction Co., Ltd. and Kyushu Electric Power Company, Inc. on Sunday, May 14; Kumamoto Toyota Motor Corporation on Monday, May 15; Adel Cars, Co., Ltd. on Wednesday, May 17; Mitsui Sumitomo Insurance Co., Ltd., Kumamoto Toyopet Co., Ltd., and Yamato Medical Corporation on Saturday, May 20.
Please check the Foundation's Instagram for information on the rice planting activity by the volunteers from each company and rice growth conditions.
Here is the QR code for Instagram.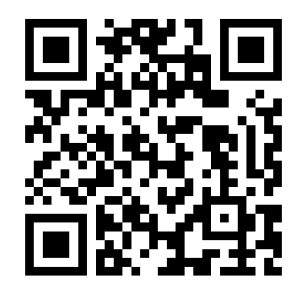 ALL LIST