The 18th "Aso Taikan-no Mori" Forest Tree Planting was Held!
On Saturday, April 8th, we conducted our 18th tree planting activity at the Aso Taikan-no Mori forest.  About 150 Higo Bank executives and employees, and local residents planted 1,550 maple and wild cherry blossoms tree saplings.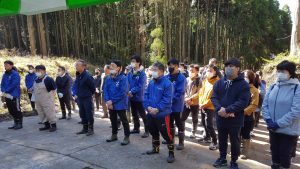 At the ceremony, Chief Director Kai addressed: "In addition to the groundwater recharge activities we have been conducting in forests and terraced rice paddies, which play an important role in the groundwater cycle mechanism, we are initiating a new project in the ocean this fiscal year.  In addition to green carbon, this is a blue carbon challenge; specifically, it is a carbon offset and undersea cleanup activity by planting seaweed called "eelgrass" and cultivating eelgrass beds.  We will also start a groundwater recharge rate survey here in the Aso Taikan-no Mori forest."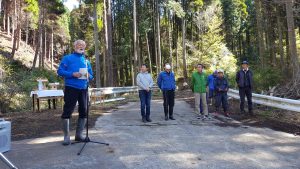 The participants offered a prayer for the safety of the work and the growth of the saplings by following the manners of Shinto; bow twice, clap one's hands twice, then bow once more in unison with President Kasahara.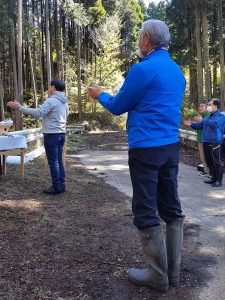 This was followed by a commemorative tree planting by Chief Director Kai and President Kasahara.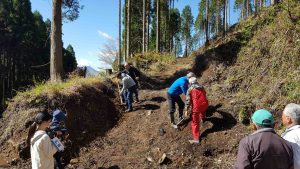 After receiving instructions for tree planting, the participants were divided into four groups and went to their positions to plant potted tree seedlings under the direction of the group leaders at the site.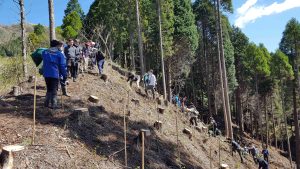 Each participant planted approximately 10 saplings.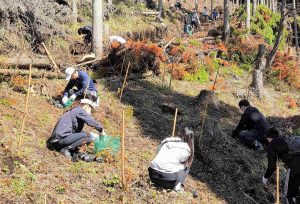 Our activities have been limited due to the covid-19 pandemic, but now we are gradually able to getting back into our volunteer work.
ALL LIST