The 12th "Aso Mizukake no Tanada" Rice Harvesting!
On Saturday, October 8, 2022, the 12th rice harvesting from the terraced rice paddies "Aso Mizukake no Tanada" was held. Chief Director Kai gave a speech at the opening ceremony:   "We had to spend many days taking appropriate measures, such as setting electric fences and slope reinforcement to protect the terraced rice fields against the typhoon No. 14 landed on Kyushu and wild boars that kept coming to the fields every day.  As you can see, some of the rice plants have fallen on the ground, but I am pleased that we are able to do the rice harvesting today without any further damage.  I would like to express my sincere gratitude to the local residents of Yamada Ward for their enthusiastic guidance and cooperation."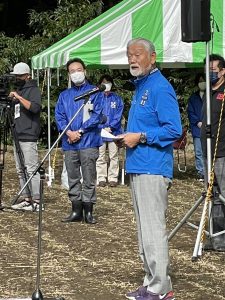 We offered a prayer to the alter for bountiful harvest and protection.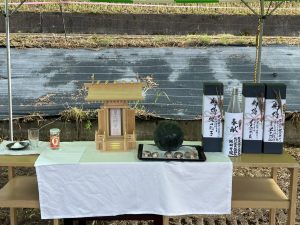 Next, a ceremony of "Kamaire (first harvesting)" was performed.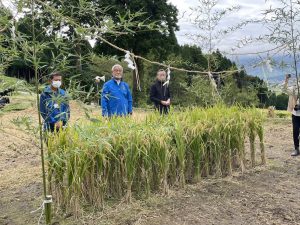 Please visit our Instagram to see the images of the Higo Bank's volunteer activities and the other companies' volunteers engaging in rice farming.
ALL LIST