Bench Made of Cedar Wood from the "Aso Taikan-no Mori" Forest (manufactured by students in the Green Environment Department at Aso Chuo High School)
Every year, the Foundation commissions students in the Green Environment Department of Aso Seiho school building at Kumamoto Prefectural Aso Chuo High School to make wooden benches and donates them to educational institutions in the prefecture.
This year marks the fifth anniversary of the production of benches using cedar lumber that has been cut down from the Aso Taikan-no Mori forest to plant broadleaf trees. The photo shows the process of bench production in 2022.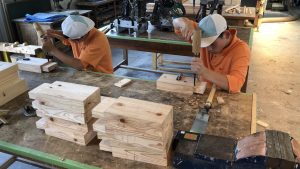 The photo shows bench leg parts being prepared with a chisel.  Timber-frame construction method without using nails requires precise work, and the techniques inherited from senior workers are being carried on.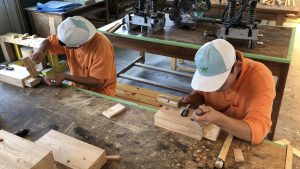 The work is progressing well, and we expect to be able to hold a presentation ceremony at the Kumamoto Prefectural Office in December.
ALL LIST