We held the 35th Higo Water and Greenery Protection Awards Ceremony and memorial lecture!
On October 26, 2021, the 35th "Higo Water and Greenery Protection Awards" ceremony and its memorial lecture was held.As the ceremony organizer, President Kai talked as follows: According to the "Questionnaire Survey to the past award winners" to commemorate the 35th anniversary of our Protection Award, the number of organizations that are continuing their environmental activities has decreased to 152 among the passed 356 award winners, which is less than half. This was quite impressive. The death of the leader who led the activity or the aging of the members forced them to stop their activities in many cases. We also learned that 60% of these 152 awards winning organizations who are continuing their activities has some anxieties for their future activities.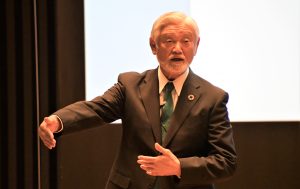 This time, in order to prevent the spread of COVID-19 infection, we secured a social distance and wearing a face shield mask. The number of visitors was about 180, and the number of the passed award winners was 62 of 30 groups. (The name lists of the attending groups were shown on the screen.)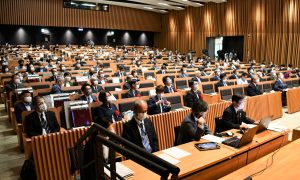 We received a review from Jury Chairman Shimada, Professor Emeritus of Kumamoto University.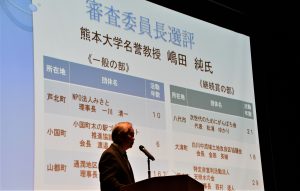 Three organizations that received the prize for "General Division".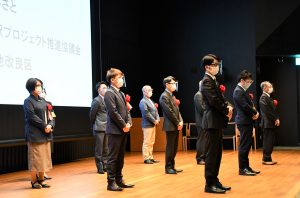 Three organizations have been awarded the newly established prize for "Continuing Award Division" in commemoration of the 35th anniversary of the Higo Water and Greenery Protection Awards.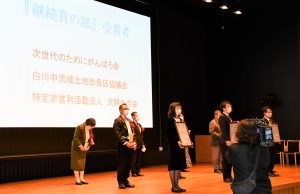 We received speeches from representatives of each organization and showed their activities on the screen.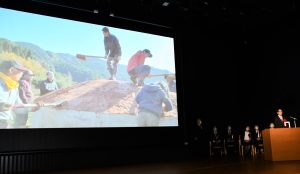 After the award ceremony, Professor Takahiro Endo of Osaka Prefecture University gave a lecture on the title of "Effectiveness and Limitations of Disaster Wells". He also explained in detail about 11 "disaster prevention wells" in Kumamoto prefecture established by Higo Bank after the 2016 Kumamoto earthquake.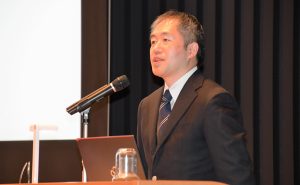 The 36th "Higo Water and Greenery Protection Awards" will start the application from April 1st of next year. We are looking forward to many applications.
ALL LIST