We carried out the 11th rice planting in"Aso Fountain Rice Terraces"!
On Saturday, May 15, 2021, we carried out the 11th "Aso Fountain Rice Terraces" rice planting. Like the last year planting event, we reduced the number of volunteers significantly to prevent the spread of COVID-19 infection. At the ceremony, President Kai said, "Last year was the 10th anniversary after the start of the paddy field flooding projects, and it was a very memorable year, as was selected for the rice paddy field to His Majesty the Emperor. We will continue to operate the paddy field recharge projects for the sustainable groundwater management, so we are expecting for your continuous cooperation. "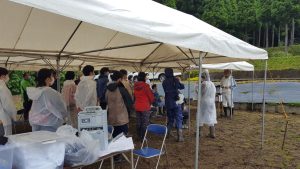 In addition, since the management and guidance of "Aso Fountain Rice Terraces" will be handed over from Mr. Motoyoshi Otaguro to Mr. Katsuji Hashimoto from this year, we introduced Mr. Hashimot and thanked Mr. Otaguro .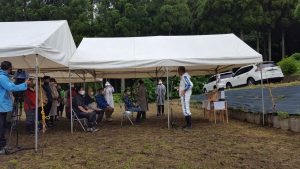 In prayer for a good harvest of rice and the safe paddy work this year, all the participants worshiped with two gratitude, two clapping and one gratitude in line with President Kai.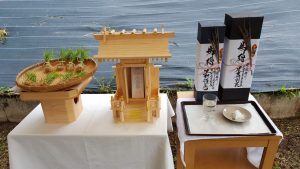 We moved to the rice terraces where Shinto rituals are held and did the "rice planting ceremony".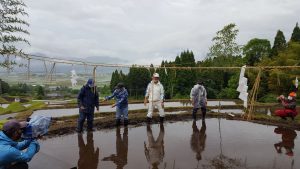 Then we divided into two groups and hand-planted rice seedlings. The rain legs gradually getting stronger and we were soaked even though we were wearing a kappa.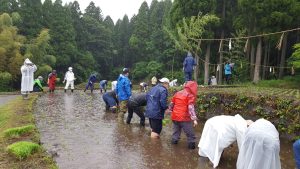 Rice planting in collaboration with two private companies working on SDGs (groundwater recharge) projects will take place on Saturday, May 22 and Tuesday, May 25.
ALL LIST