The 16th "Aso Taikan no Mori"(Aso panoramic Forest)tree planting!
The 16th tree planting was held at "Aso Taikan no Mori" from 10:00 am on Saturday, April 17, 2021. Last year, in order to prevent the spread of COVID-19 infection, tree planting by volunteers were cancelled and only Foundation staffs joined the 15th tree planting. However, this year around 50 people participated in the planting event. Unfortunately it was rainy weather, participants joined the site with rainwear.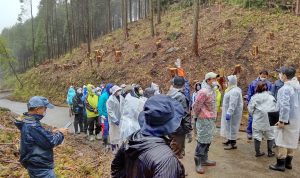 President Kai talked in his greetings; " The Groundwater Recharge Project conducted at "Aso Taikan no Mori" and "The Aso Fountain Rice Terrace " received high evaluation in the Ecosystem Conservation Division of the 1st Green Infrastructure Awards sponsored by the Ministry of Land, Infrastructure, Transport and Tourism. And recently we won its "Excellence Award". Our foundation's efforts are being evaluated in various angles. Let's continue the forest tree planting and conservation activities that keep Higo Bank's CO2 emissions in carbon neutral as the SDGs perspective! "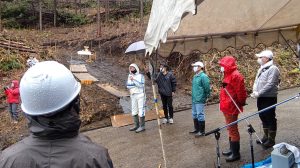 Next, we held a "Shinto ritual" to pray for work safety and the end of COVID-19. At the same time with President Kasahara, all the participants prayed with two gratitude, two clapping and one gratitude.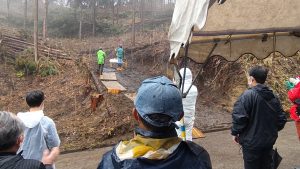 Subsequently, President Kai and President Kasahara planted wild cherry tree saplings in commemoration.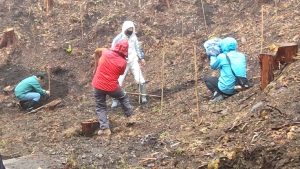 After the ceremony, we divided into two groups and planted 20 saplings of Quercus acutissima and Wild cherry tree. Because of the rain continued from last night, the planting slope was very slippery, but the soil was damp and it was easier to dig holes.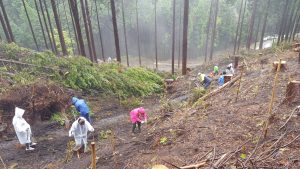 A total of 5,000 saplings were planted, including the number of trees planted by Foundation staff and by locals, bringing the total number of trees planted to 144,000.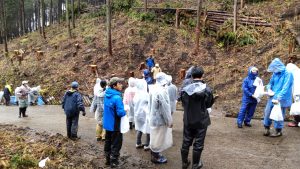 This time, instead of lunch, we distributed an assortment of sweets to all the participants and then broke up. Next year we plan to plant 6,000 seedlings to reach the target of 150,000.
ALL LIST