We held the 34th Higo Water and Greenery Protection Awards Ceremony!
On October 16th (Friday), 2nd year of Reiwa, the 34th Higo Water and Greenery Protection Awards Ceremony was held. In order to prevent the spread of COVID-19 infection, we did not hold a lecture this year and only the award ceremony was held. The ceremony participants  were limited to the award winners and related parties, and the ceremony  was operated in consideration of social distances. As the ceremony organizer, President  Kai said, " The continuous invasion of new coronaviruses and recent large typhoons, those unexperienced natural disasters might  be a letter of inquiry from  nature regarding the human development activities that  has done so far. We need to answer this questionnaire, and I think the SDGs as one way of answering. "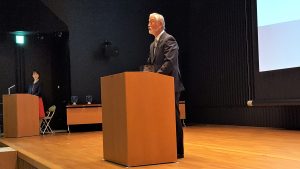 Next, we received a "selection comments" from Jury Chairman Shimada, who was selected the candidates for this year's Higo Water and Greenery Protection Awards.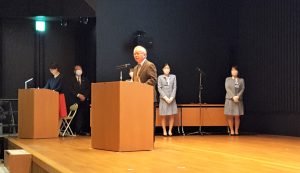 After receiving guest greetings from Deputy Governor Tajima of Kumamoto Prefecture and Deputy Mayor Tano of Kumamoto City, we commended the five award-winning organizations for this year award.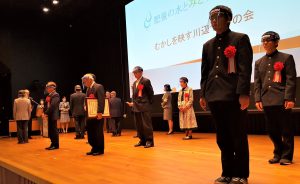 This time, the representatives of each award organization gave a two-minutes speech. The photo is Mr. Tateiwa of the "Kawabezukuri no Kai that reflects the old days".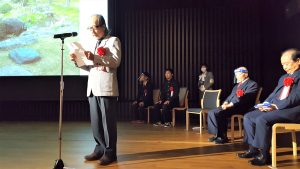 Finally, Higo Bank's President Kasahara (also Vice President of our  Foundation) gave the acknowledgement talk as; "We will continue to work actively for the sustainable protection of water and greenery considering the effective activities and measures under the framework of SGDs."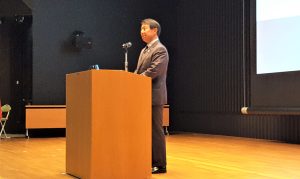 We are always waiting for applications from people who have been enthusiastic about environmental conservation activities for many years.
ALL LIST