We harvested rice in the Aso Fountain Rice Terrace and held a commemorative ritual!
On Saturday, October 10, 2nd year of Reiwa, we harvested rice in the Aso Fountain Rice Terrace and held a 10th anniversary commemorative ritual. It was worried about the weather due to the approaching typhoon, but it was done safely because the typhoon course was off. President Kai said, "The paddy field flooding project for groundwater recharge has expanded after our  foundation's project, and it's effects have been gradually confirmed. In order to continue our project effectively, we would like to learn more for the rice cultivation and accumulation methods."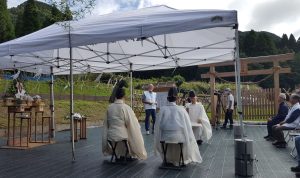 The priest of Aso Shrine and the people of Gonnegi performed the Shinto ritual of "Nukiho-sai". This time, the number of the ritual participants  was limited to about 20 to prevent the spread of the new coronavirus infection.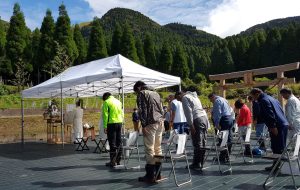 As the rice cultivation in the Aso Fountain Rice Terrace reached the 10th anniversary, we gave a letter of appreciation and a memorable souvenir to Mr. Murakami and Mr. Saeki who are the representatives Yamada District, Aso City.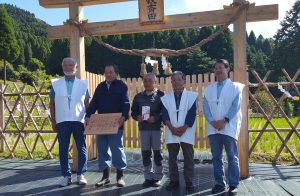 After the ceremony, all the participants took a commemorative group photo.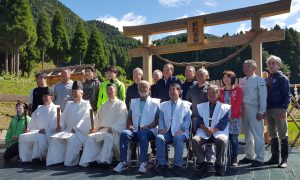 The rice harvesting this year was harder than expected due to the small number of participated people and also the strong sunshine under fine weather caused by off typhoon course.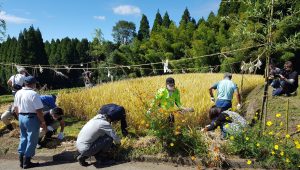 After hanging and drying, we will proceed with rice hulling and rice polishing.
ALL LIST