Aso Division activity series① We carried out the 10th rice planting in "Aso Fountain Rice Terraces"
On Friday, May 15, 2020, the 10th rice planting was carried out at "Aso Fountain Rice Terraces". This year, in order to prevent the spread of COVID-19 infection, we decided to cancel the volunteer base event but to perform the hand planting by 5 our Foundation staffs and 2 Higo Bank staffs. Aso shrine priest performed a congratulatory message for the 10th anniversary of rice planting, and then President Kai enshrined Tamagushi.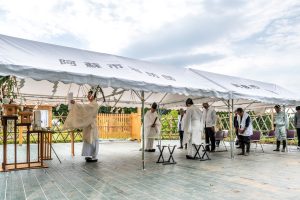 President Kai, Managing Director Ohno, and Motoyoshi Otaguro made a commemorative hand planting as rice planting ritual.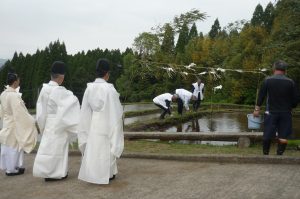 A "Koshihikari seedling" was hand-planted by Foundation staffs in one rice terrace that was used for rice planting ritual.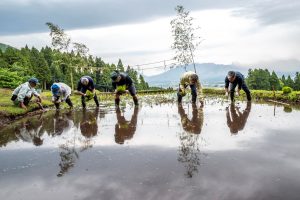 On Friday, May 22, we did the supplementary hand planting with "Akigeshiki seedlings" in the mechanically planted rice terraces. You can see no seedling space near the front part of the rice terrace where we did hand planting later.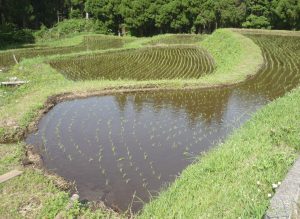 We hand planted seedlings at the doorway of the planting machine and also the space near the terrace bank where the planting machine could not run. We replanted the seedlings that had floated on the paddy water after machine planting.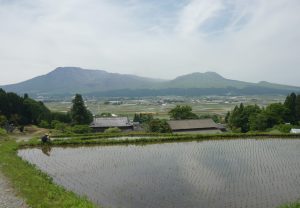 In the afternoon, we collected the mowed terrace-bank grass by bamboo broom and burned it, and then raised the paddy soil by using a tractor. 67 rice terraces will finish planting in next week.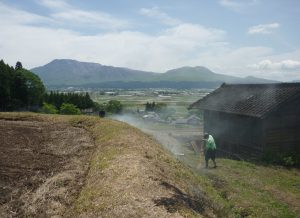 ALL LIST