We held 2019 women's handball world championship hospitality event!
On Saturday, December 7, 2019, the "Women's Hospitality Event" of the 2019 Women's Handball World Championship Kumamoto was held at the entrance hall of the Higo Bank Head Office on the 1st floor and large conference room and foyer of the 2nd floor.At the time of the opening, 20 members of the jury of the tournament teams came into view to the event.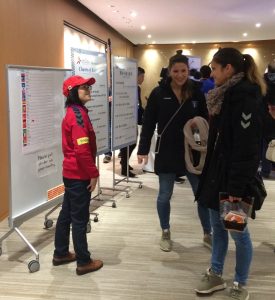 At the conference room, President Kai gave a welcome speech, parallel screening of English version and Japanese version of DVD "Water:An essential resource for Life" , and also presented in English about the Kumamoto's groundwater and information on scenic spots. There was a supporting message from Mr. Kasahara, the President Higo Bank. Famous Kumamon also rushed up to the stage with a surprise.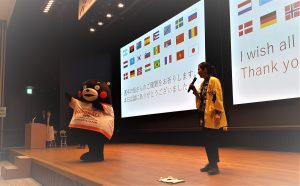 In the "Introduction to Kumamoto Culture ", each booth received many visitors. The photo shows the Tea ceremony by Higo Koryu Hakusui-kai.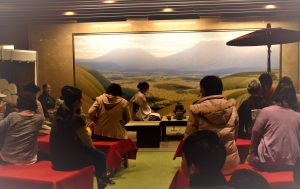 This is a World's and Kumamoto's bottled water tasting.
 Provided by: Kumamoto City Water and Sewarage Service Corporation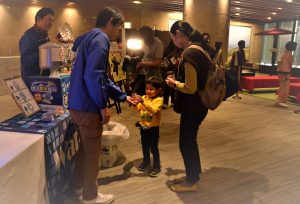 This is a VR experience of handball.
Provided by NTT WEST Co.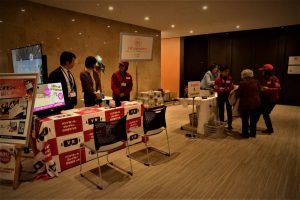 Kimono Furisode display.
Provided by Tsutsumi Photo Studio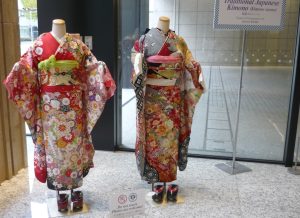 In the center, you can experience the flower arrangement of the Kado Saga Goryu.The front is free distribution of oranges, and the back is wine tasting.
Provided by: <Mikan> JA Kumamoto Kajitsuren <Wine> Kumamoto Wine Co.,Ltd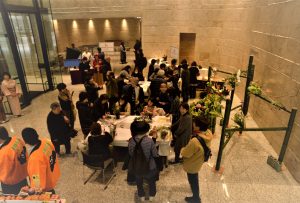 This flower arrangement work was created by Saga Goryu at the main entrance of the Higo Bank head office in praying for the success of the players. (The center is the handball game's ball)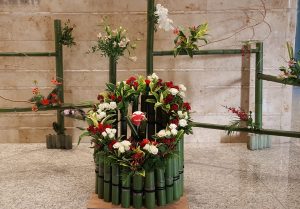 Approximately 400 people attended the hospitality event and we distributed the sweets of Kobai prepared as the gifts. The audience in the large conference room was about 200 people.
We're honored to have the International Handball Federation Chairman, Mr. Hassan Mustafa attended the event of conference room until the end of the lecture "Charm of Kumamoto ". We sincerely thank everyone who sponsored this hospitality event.
ALL LIST