We carried out the 9th rice planting in "Aso Fountain rice terraces"
On Saturday, May 18th, 2019, the 9th rice planting was carried out at "Aso Foutain Rice Terraces" under rainy weather exactly met the weather forecast. It was an opening ceremony under intermittent rainfall.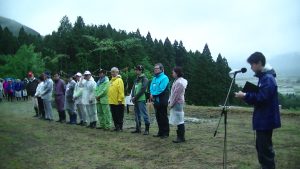 At the ceremony, President Kai told us that, "I am very pleased that the joint circle of voluntary contribution has expanded, and Aso Fountain Rice Terraces won the Kumamoto Scenic Award 30th Commemorative Grand Prize ". He also explained that," For the World Handball Championship, we are conducting seminars on groundwater in Kumamoto and planning the related hospitality events. "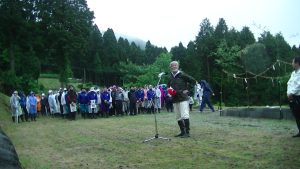 In the following "rice planting ceremony", it was attended by the representatives of Ichiyokai Hospital Co., Kaneichi Co., Kyushu Electric Power Co., and Kyushu Railway Co., who participated this rice planting event for the first time.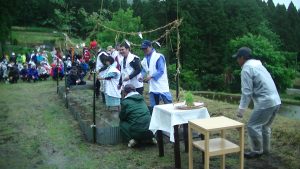 Mr. Kawazu, Director of Aso Division of our Foundation, explained the precautions on rice planting. He also introduced about the naming of "Aso Nishiki" in the Sakaigawa Sumo room who was introduced in last year's rice planting event and is actively play Sumo tournament now.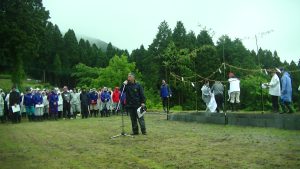 Guided movement started from a longer distant group from the ceremony place to each planting rice terrace area.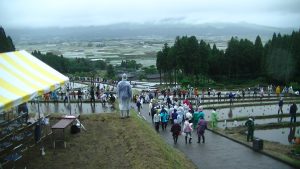 In considering toward the worsening weather, we worked hand-planting in a short time (within an hour).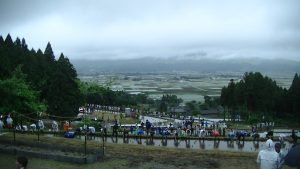 About 40 people including the baseball club team also participated from Uchimaki Elementary School, which has integrated with closed Yamada Elementary School at the end of this March.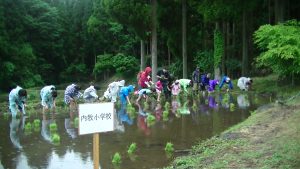 For the curry dish for lunch, we prepared a container with a lid in case of rain. The catering staff made preparations so that they could be delivered efficiently in a short time.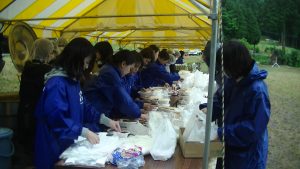 ALL LIST