The 14th "Aso Taikan no Mori"(Aso panoramic Forest)tree planting!
On Saturday, April 13, 2019, the 14th tree planting was held at the Aso Taikan no Mori forest. Although it was cold weather with snow in last year, this time was blessed with fine weather best for tree planting.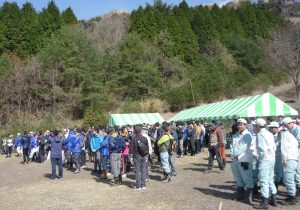 At the ceremony, President Kai had greeting talk that, "The cumulative number of planted trees is 135,000 until this time, because of the delay by the mountain slope collapses which have been caused due to the 2016 Kumamoto Earthquake and heavy rainstorm 2017 in northern Kyushu. The necessary number of trees to neutralize the CO2 gas emission by Higo bank activities is calculated to be "150,000", so we need to rush up the tree planting for the remaining 15,000 trees as soon as possible. The Rugby World Cup will be held in October of this year, and the Women's Handball World Tournament will be held in Kumamoto in this December. We are planning to provide information on the water circulation system of Kumamoto, a unique groundwater city in the world. ".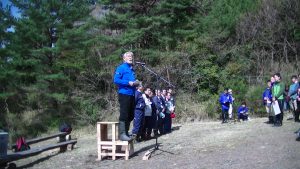 The 52 ha tree planting area of Aso Taikan no Mori purchased by Higo Bank was fully completed by last year. So from this year, we have decided to plant 1.1ha area adjacent to the " Sabo dam east side " which has 6.6ha in total where has been purchased from Aso City by the foundation.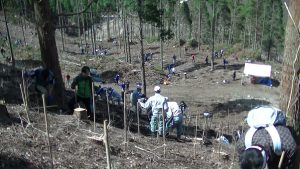 A total of 300 people, including Higo Bank officers and staff members, students from Aso Chuo High School and the local residents of Kokura district, planted 2,500 seedlings (1,000 maples, 1,000 yamaboushi, 500 wigs). This time, the work was progressing smoothly because the terrain was relatively flat clear-cut forest.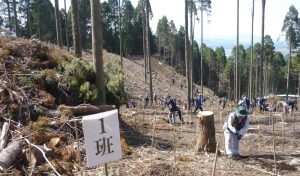 On Saturday, April 20, approximately 70 newly recruited employees of Higo Bank will plant 500 Yamaboushi seedling trees. There was a memorial signboard built by the 2017 new recruits behind this year's planting area. What kind of words will be written on the board this time?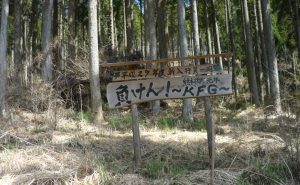 ALL LIST