Presented wooden benches to prefecture educational facilities!
On Friday, September 19, 2019, at the Kumamoto Prefectural Government Office New Building 1st floor lobby, a ceremony was held to celebrate the donation of six benches made using cedar trees cut down for tree planting at the "Aso Taikan no Mori". Was. Higo Bank's Deputy President Yamaki (Councilor of the Foundation) handed the catalog to Koga Education Superintendent in Kumamoto Prefecture. Twelve were donated, including six last year.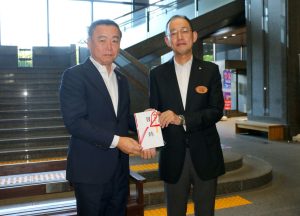 It is everyone of Aso Chuo Senior High School green environment department who asked for bench production this time. From April of this year, we have been working on the production as part of the class. This bench does not use any nails or metal fittings, and is made with the "Kumiki" construction method used in traditional architecture, and is finished in consideration of the safety of the children who use it. The representative greeted me.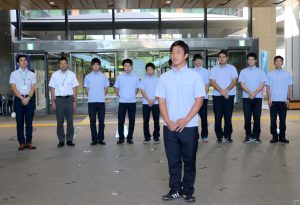 After the donation ceremony, the Kumamoto Prefectural Office of Education, the teachers and students of Aso Chuo High School, and the staff of the Foundation took commemorative photos.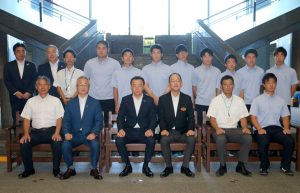 Kumamoto City Furumachi Elementary School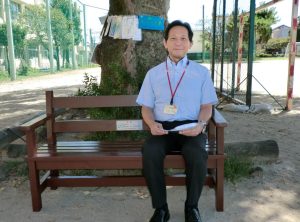 Yatsushiro City Sakamoto Junior High School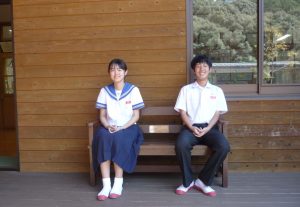 Minamata City Kugino Elementary School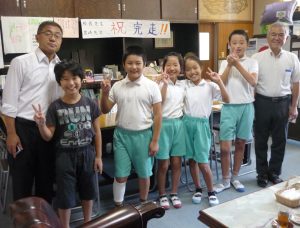 Through the donation of this bench, the children of Kumamoto, who will be the next generation, will be able to use them in their daily school life and touch the wood that grew up in the wilderness of Aso. Functions play a major role in environmental conservation. "

《6 schools donated this year》
Kumamoto City Furumachi Elementary School
Mashiki Municipal Hiroyasu Nishi Elementary School
Minamata City Kugino Elementary School
Nishikicho Kinoue Elementary School
Yatsushiro City Sakamoto Junior High School
Amakusa City Ryounan Junior High School
ALL LIST