We planted trees of "Aso Taikan no Mori" forest by new recruits of 2018 years!
On Saturday, April 28, 2018, a newly-hired Higo Bank personnel memorial planting was done in the " Aso Taikan no Mori " under a fine weather. A total of 113 people (of which 87 newly appointed members) participated, planted 500 seedlings of Yamamomiji trees, and enjoyed creating signboards and barbecue lunch aimed for better friendship.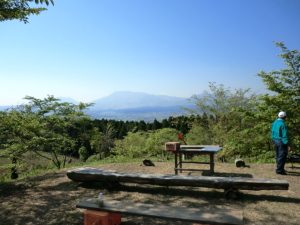 On that day, following senior fellows joined the event and helped for smooth running of the tree planting and barbecue; Mr. I (Oguni Branch), Mr. Imayoshi (Uchinomaki Branch), Mr. Miyazaki (Miyaji Branch), Mr. Yamauchi (Miyaji Branch), Ms. Sasaki (Takamori Branch). Thank you very much for their cooperation.

On the signboard, they wrote "Here we go Sun (30) Years 101 of Higo-Chan" to show their enthusiasm as a future Higo Bank employee.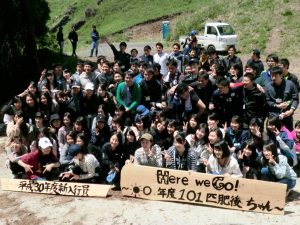 "Friendship barbecue" blessed with fine weather was surrounded by bright laught, and they enjoyed lots of delicious wild vegetables tempura, pickled rice balls, and pickles. Those are prepared by the local Ogura district residents, and we sincerely thanks to everyone in the Ogura district.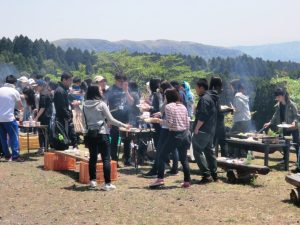 ALL LIST