We held a joint "groundwater study seminar for high school students!
On 6th May (Sun), 2018, the Geoscience subcommittee of the Kumamoto Prefectural High School teacher's Educational Study Committee and our foundation collaborated to hold a joint "groundwater study seminar " for high school students. This time, 46 high school students from 7 prefectural high schools and 9 supervising teachers participated the seminar. The curriculum in the morning is DVD viewing in the seminar room on the 2nd floor of the Higo Bank Kumamoto Ekimae branch and then learning two course lectures. Opening remarks were received from Mr. Fukuda of Uto High School principal, also the chairman of the Geoscience subcommittee.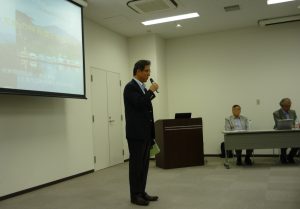 First of all, it was introduced the enlightenment DVD of "Water: The Essential Resources for Life " produced by our foundation.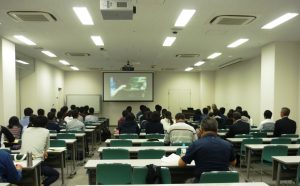 Subsequently, Professor Yoshitaka Hase (Director, Goshoura Cretaceous Museum, Amakusa City) had a lecture on "Site Specificity and meaning of the geology of Kumamoto area", and Professor Tsutomu Ichikawa (Tokai University ) also had a lecture on "2016 Kumamoto earthquake and their effect to the local groundwater". Because of the rainy weather, a memorial group photo was taken in front of the seminar room screen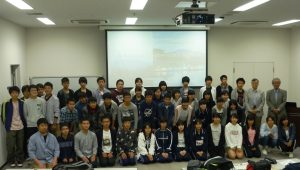 After lunch at the seminar room, they went out to the field excursion. They used two buses and visited the No. 5 well and the pump room at the Kengun production well site of Kumamoto city water works. Everybody rounded his eyes to see firstly the groundwater blowing out of the artesian well with a depth of 40 meters
Then they visited the natural swimming pool at Kasima Town spring park and it was explained by Prof. Ichikawa.
After leaning Prof. Hase's explanation at the outcrop site of Togawa lava t, they visited "Hanaguri-ide" irrigation channel site of Kikuyo Town which Kiyomasa Kato was built and they got a detailed explanation by the local volunteer guide
According to the supervising teacher's comment, it was well managed seminar with the impression that "There were a lot of participating students, content was substantial and it was really a very good workshop." Our Foundation intends to plan actively this kind of learning seminar in the future.
ALL LIST