We held the 31st Higo Water and Greenery Protection Awards Ceremony and symposium !
On October 25, 2017(Wed), the 31st Higo Water and Greenery Protection Awards Ceremony and Symposium was held at the large conference room in the 2nd floor of Higo Bank head office. In Foyer, the panel exhibition of a certificate for the rice from "Aso Fountain Rice Terrace" as the first recipient of the agricultural and livestock products in Kumamoto prefecture that support the local groundwater and soil. Also Higo Bank branch booth showing "Water-saving equipment" was exhibited. At the reception, we distributed PET bottles of "Mizukami village water" for participants.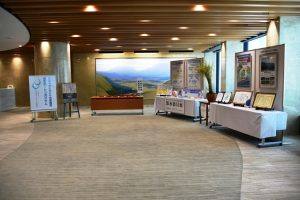 As the opening remarks, President Kai said, "Without the conservation activities of water and greenery, the area will definitely be devastated." Due to the coming of declining population and aging society, we will become short of the supporting population." He explained the case of the award-winning organization as a reference example. Guest greetings are received from Mr. Ono deputy governor of Kumamoto Prefecture and Mr.Onishi Mayor of Kumamoto city.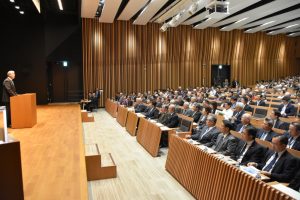 The members of the awarded 6 organizations are on the stage . Professor Emeritus of Kumamoto University and the scientific advisor of this foundation, Dr. J. Shimada gave the evaluation  committee's comments.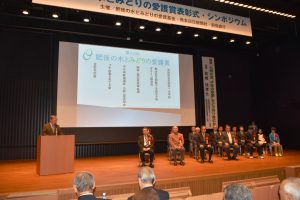 Awards certificate was given from Higo Water and Greenery Protection President Kai. Awards shield from Mr. Iwamoto, the Senior Managing Officer of the Kumamoto Daily Shimbun Company, and Prize money from Mr. Mogami, the Higo Bank' s Top Senior Managing Director, were given to each group. The photo is the ceremony shot of Arao Daiichi Elementary School students.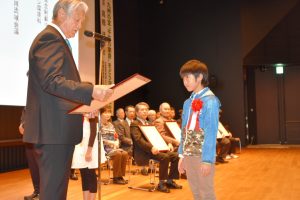 In the subsequent symposium, Dr. Yoshitaka Takahashi, Chairman of the National Grassland Revitalization Network and also Chairman of the Aso Grassland Regeneration Council, gave a presentation titled "How to Protect the Treasures of the Kyushu – The Thousand Years of Grassland – ". He explained in an easy-to-understand manner about the importance of the Aso grassland as the regional water recharge source, as the effective use of wild grass compost, and as the tourism resources, etc.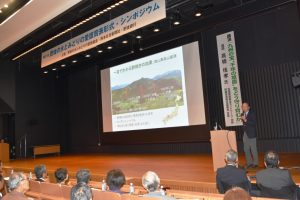 38 organizations applied the award this year. At the evaluation committee, there were many organizations that were evaluated as doing unique and effective efforts to approach the next ranking after the awarded organizations. As this awards activity continue to the next year, please apply again next time.
ALL LIST