We had the 7th rice harvesting at " Aso Fountain Rice Terrace!
On October 14,2017(Sat), we had 7th rice harvesting at Aso Fountain rice terraces. Unfortunately it was rainy day , but we were able to accomplish the scheduled hand cutting and hanging work safely .At the meeting place, Apika, Mr. Yoshizu Executive Director of the foundation explained the history and background of  the agricultural work · paddy field flooding business at " Aso Fountain Rice Terrace" which is the regenerating cultivation of abandoned crop field.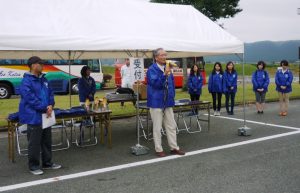 This is a signboard showing that the rice from this Aso Fountain rice terrace received the Kumamoto prefectural certification of the agricultural and livestock products that support the local groundwater and soil as the 1st recipient.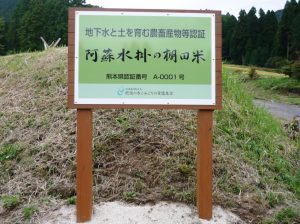 At the ceremony, President Kai said, "We are doing a lot of efforts to boost the momentum of the reconstruction against the earthquake disaster in the Aso area. Recently we had "Aso Shrine Exhibition" at "Higo's Satoyama Gallery" where showed the restorated sword of Hotaru-maru and other swords. It closed with a good reputation by many people came from outside the prefecture with the number of visitors exceeding 10,000."
He also explained, "The 31st "Higo Water and Greenery Protection Award Ceremony · Symposium" will be held on 25th this month. The symposium will focus on the grassland of Aso at the first time, and we are planning a presentation with the title of how to protect the "Treasures of Kyushu – the thousand years of grassland – "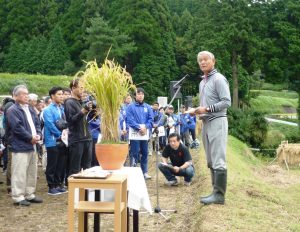 Two children from Yamada Elementary School, two students  of Tokai University and one fresh staff of Higo Bank conducted the sickle-breathing ceremony with President Kai.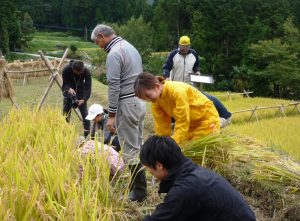 Since it was cloudy weather no matter when it began to rain, we hurriedly arranged and worked adeptly.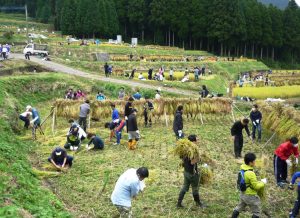 About 100 students from Tokai University's Faculty of Agriculture participated this time as well, and after the completion we gave a warm greetings from Professor Niki.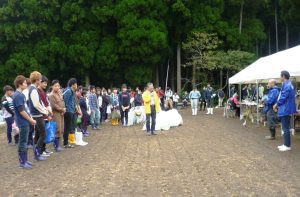 After hanging and drying those rice, we polish them. As this year's crop index is "somewhat good", please wait for some moment until it reaches the hands of everybody of Higo Bank Health Insurance members.
ALL LIST