We were awarded the certificate of the agricultural and livestock products that support the local groundwater and soil as the 1st recipient!
On 21 August, 2017, Mr. Kabashima, the Governor of Kumamoto Prefecture, awarded the certificate (agricultural product No. 1) entitled to the President Kai of the Foundation.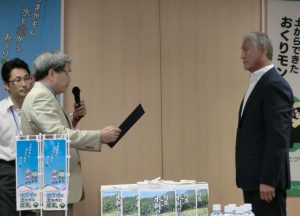 This award is based on the evaluation of our following efforts; the fermented liquid fertilizer "Oishi Enzyme" made from Shochu dregs in the paddy field flooding project of "Aso Fountain Rice terrace"; the traditional farming method in the Aso grass land "Nogi compost"; utilize the organic fertilizer " Earth and plant medicinal herbs "and other measures to reduce chemical fertilizer.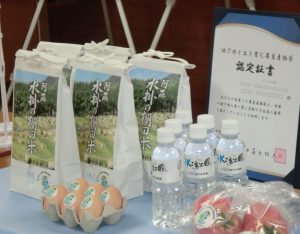 We took a memorial photo with the Governor and the representatives of Seven Foods Co., Ltd. and JA of Kikuchi City who were also certified with their agricultural and livestock products at the same time.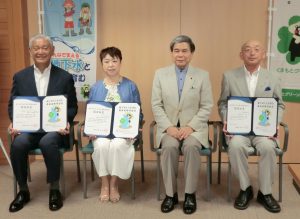 This is the certificate. The certificate number A represents agricultural products, the number 0001 represents the first issue. From now on, we will strive to raise awareness and PR for "certification system for agricultural and livestock products that support the local groundwater and soil" by sticking a dedicated seal to rice " Aso Fountain Rice terrace."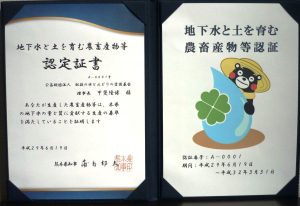 ALL LIST