We did the 11th undergrowth event at "Aso Taikan no Mori"!
On July 22, 2017(Saturday), about 100 employees of the Higo Bank participated and did 11th undergrowth event at the 4 ha area of "Aso Taikan no Mori". Mr. Yoshizu, Executive Director of the foundation, notified the significance of the undergrowth and slash cutting, and also thanked for the work under the hot weather.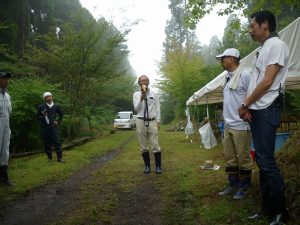 Next, Mr. Kawazu of the Aso Division gave a detailed explanation on the accident at work, such as how to use the brush-cutter including the timing of refueling, and also the counter action in case of "falling over"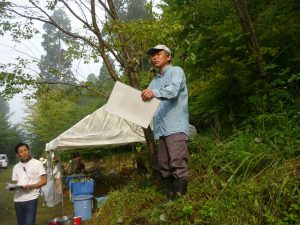 We took a memorial group photo before starting work, because we will become sweaty and exhausted expression, if we shoot after working.
We divided into 4 groups, then under the guidance of the group leader and the handlers of the brush-cutter, we adjusted the length of the shoulder straps and carefully checked by actually moving the brush-cutter.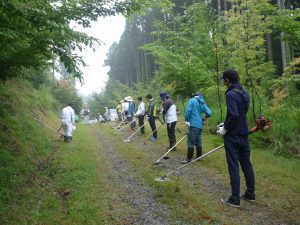 We worked hard for 45 minutes, 30 minutes, 30 minutes of undergrowth mowing work with holding a 15 minute break.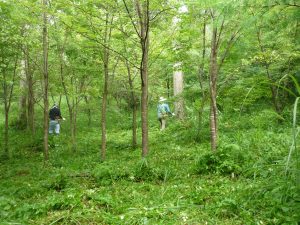 The handmade curry rice cooked by the local women's party was very popular with more seasoned spices than usual.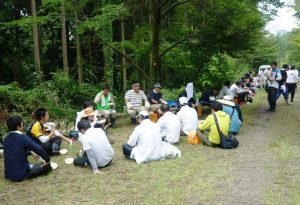 In addition to the classic Fukujinzuke,local women's association has prepared various pickles.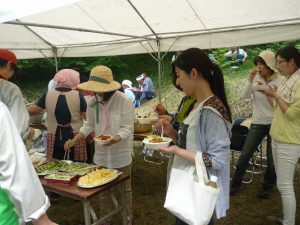 There was neither being rained nor being injured, and we were able to finish mowing down undergrowth steadily. Thank you very much for the volunteers.
ALL LIST