We carried out the 7th rice planting in "Terraced rice paddy in Aso"!
700 people including Higo Bank Group executives and local citizen participated and carried out the 7th rice planting in "Aso Fountain Rice Terrace" on May 13, 2017 (Sat). Since last year was a month after the Kumamoto earthquake which caused a tremendous damage, it was held with a small number of people, but this year we were able to hold the scale as usual.
To the staff who gathered from the early morning to Apika Agricultural Park, Yoshizu Executive Director gave a greetings including thanks and caution for the fact that the paddy ground was muddy due to heavy rain which lasted from the previous day.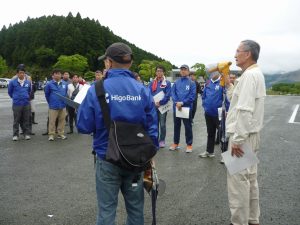 Regarding the way of rice planting and how to exercise ration, there was explanation to the group leader of each team. This year we decided to plant six seedlings (4 until last year).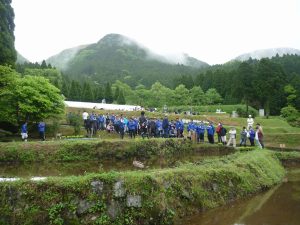 President kai talked in his greetings; "According to Kumamoto prefecture's policy "Promotion of Agriculture Fostering Groundwater and Soil", we are already engaged in agriculture with suppressed agricultural chemicals and chemical fertilizers, and we use "Oishi Enzyme" and "Aso's Nomadic Compost". From this year we will apply Kyushu University brand organic fertilizer named 'Medicinal meal for soil and plant to our some fields"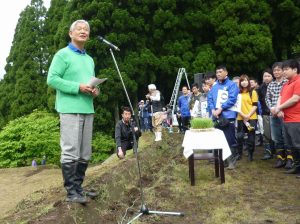 Mr.Hamada of the Kumamoto Prefecture Agriculture, Forestry and Fisheries Department encouraged us who are working on making rice, not getting caught up in the many disasters that occurred last year.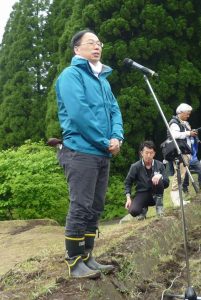 Mayor of Sato in Aso city, sang "Our destiny is always saddened and the center of the world we are walking today looking for answers," Funky · Monkey · Babies' "Runway ☆ Beat"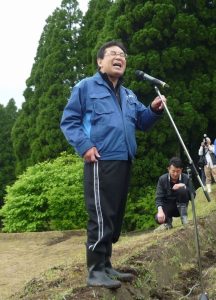 "Rice Planting Ceremony" was done by President Kai, students of Yamada Elementary School, and students of Tokai University.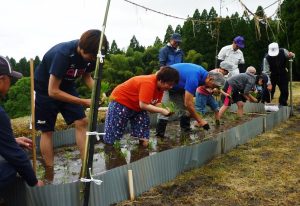 At the end of the ceremony we took a group photograph.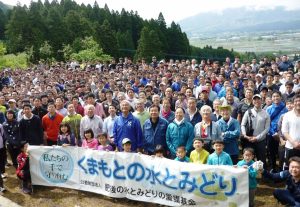 It is a state of the second group rice planting. We will plant seedlings breathed together exactly in a row.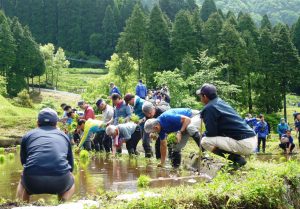 As a "rice planting practice", 100 students from Tokai University Faculty of Agriculture participated following the harvesting on October 15th last year.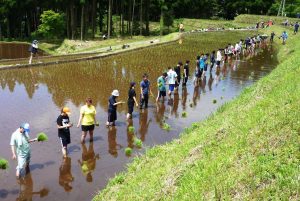 For lunch, we ate curry rice with secret hidden taste cooked by the local women's association prepared at 4:30 in the morning.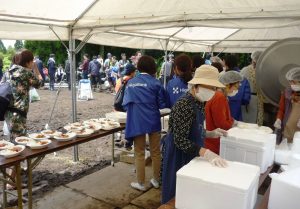 Lastly, students of Faculty of Agriculture at Tokai University was arranged, and there was a greetings to the organizers and the local citizen.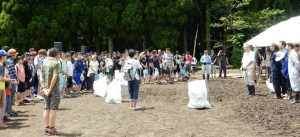 I hope that we can harvest a lot in the autumn this year.
ALL LIST