This year we also did "Aso Taikanno Mori" tree planting!
On Saturday, April 8, 2017, we did the 12th planting trees event at "Aso Taikan no Mori" with the participation of 300 people from the Higo Bank line and local citizens. Unfortunately it was a rainy day, but at the ceremony, President Kai talked in his greetings;  " Last year I felt difficulty to manage forests. Forests have several functions such as head water recharge, CO2 absorption, and flood disaster prevention. However, forests themselves also can be damaged under a huge natural disaster. Last year we planted trees on April 9 but the Kumamoto earthquake occurred the following week and forced to collapse at six slopes in our west forest. The extent of the collapse was large, and it ranged from 30 m in width to 200 m in length, but there was no influence on the lower private houses, fortunately. So I was relieved. " After Mr. Kai, Mr. Noto of the Aso Promotion Bureau in Kumamoto Prefecture and Mr. Sato of the Mayor in Aso City have also the greetings.
At the briefing to the staff prior to planting trees, Mr. Yoshizu Executive Director of the foundation gave thanks and encouragement greetings. There was a very positive greeting for environmental volunteer activities at Aso from Mr. Tanabe, Miyaji branch manager and Aso Block General Manager of Higo Bank, who just recently appointed as personnel change, as well as Mr. Yonemoto Ucimaki branch manager. Originally the tree planning was organized in 5 teams, because the work on the steep slope in the rain accompanies danger, the work in the two areas with steep slope  was canceled and reorganized into three groups for the tree planting. This year we planted seedlings of Fagaceae tree species which are strong against the feeding damage by.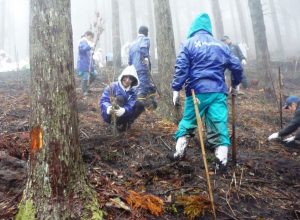 In the past year, we planned to make "local sweet soup" by local women's association, but we canceled it promptly because of rainy weather of this year. We ordered the packed side dishes of Hirai lunch box shop, and distributed it with Onigiri rice ball to participants.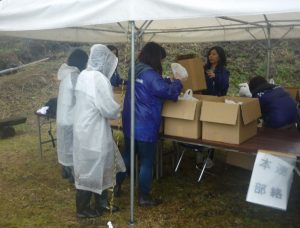 On April 29 (Showa Day), we volunteer for planting trees of Higo Bank freshman. 96 people newly joined the Higo Bank, 5 employees in the second year, 7 personnel departments, 2 public relations departments, 10 local people and 2 people from the Foundation, a total of 122 people participated.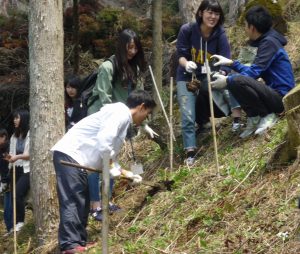 400 trees of potted wood pots and 100 seedlings of cherry trees were planted in an area of 0.3 ha, totaling 500 trees.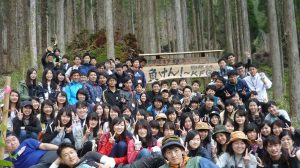 ALL LIST