Aso Division activity series ⑧ "Aso Taikan no Mori" undergrowth work
On Wednesday July 29, and Friday July 31,2020, 2 days, 5 people in total (2 people of our foundation Aso Division and 3 secretariat officers of our head office) joined to cut undergrowth of 1.1 ha area of "Aso Taikan no Mori". The seedlings could not grow without sunlight, so weeds around them need to be mowed.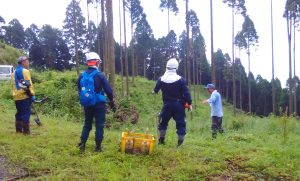 This is the "engine mower" used for weeding. We reconfirmed how to start the engine, how to refuel, the timing of refueling, how to operate, how to mow, and important precautions during the mowing work, and then start to work.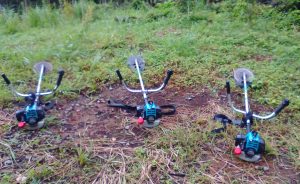 In the last year tree planted area, weeds and thorny weeds flourished vigorously and it was almost no seedlings visible. Confirm the location of the seedlings by the bamboo supporting poles as a marker and carefully mow the undergrowth. Carefully straddling one foot on the steep slope, we proceeded the engine mowing.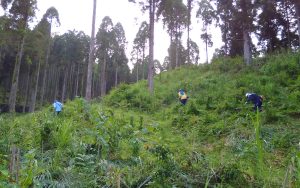 This is a after work photo of the area undergrown on Wednesday, July 27.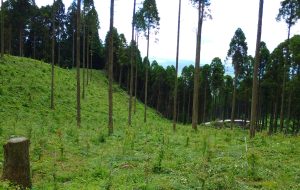 This is a after work photo of the area undergrown on Friday, July 31. The saplings can get enough sunshine once again.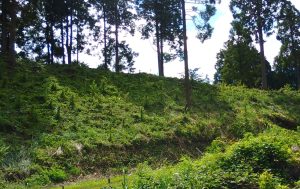 We took a group photo after weeding work. Because of the work under the intense heat, we tried to replenish water and salt and take breaks as a measure against heat stroke, but due to considerable hard work, we became sweaty all over the body. We plan to mow the grass several times in August.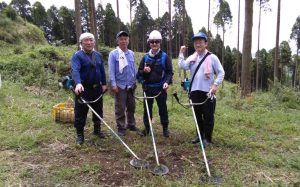 ALL LIST